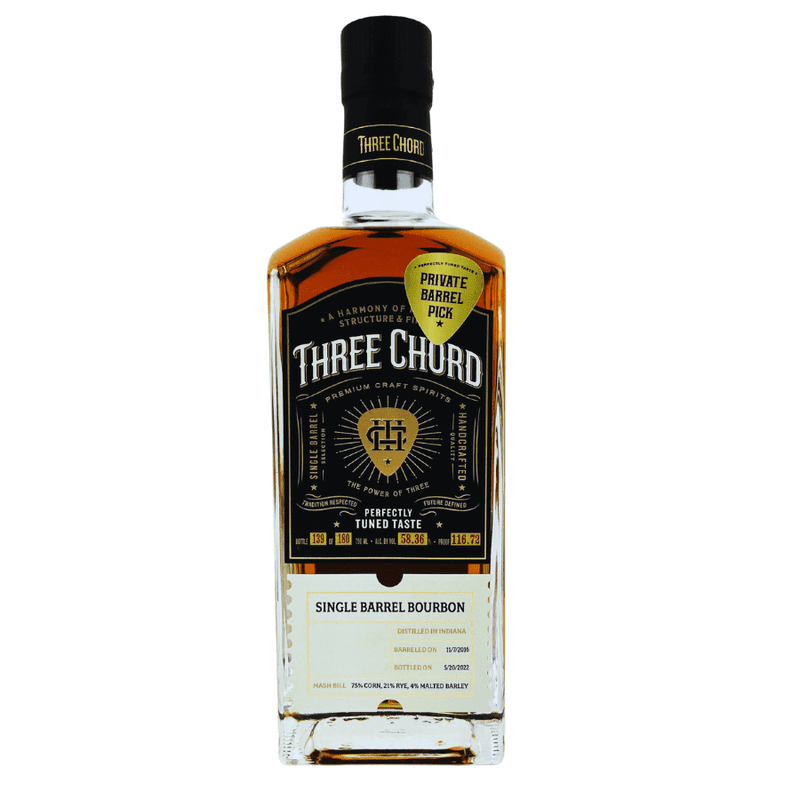 Three Chord Private Selection Single Barrel Bourbon
11 people are viewing this right now
Translation missing: en.products.product.price.regular_price
$49.99
Translation missing: en.products.product.price.sale_price
$49.99
Translation missing: en.products.product.price.regular_price
$14.99 Flat Rate Shipping for up to 4 bottles. Free Shipping on all orders over $250
Three Chord Private Selection Single Barrel Bourbon
Product description
Shipping & Return
Three Chord LoveScotch Private Single Barrel Pick Bourbon is a top-notch whiskey that should be on the radar of any bourbon lover. The nose is filled with notes of caramel, vanilla, and oak, while the palate is smooth and rich with a balanced sweetness and a hint of spice. The finish is long and warming, leaving behind a pleasant warmth in the mouth. Overall, this is a well-crafted bourbon that is well worth the investment. A little more than five years old, our private barrel of Three Chord is clocking in at 58.36 ABV or 116.72 proof. It has a mash bill of 75% corn, 21% rye, and 4% malted barley. Whether you are a whiskey connoisseur or just looking for a quality spirit, Three Chord LoveScotch Private Single Barrel Pick Bourbon is worth a try.
Appearance: In the glass, this bourbon presents as a beautiful light gold honey.
Nose: This opens with aromas of fresh bread and subtle rye spice. There are notes of clove and star anise.
Palate: The front palate starts very strong with a huge burst of rye spice and salted caramel giving way to shortbread cookies. There's a beautiful drying sharpness on the mid-palate that makes you want to drink more. The finish has notes of cherry cola and ginger.
Shipping:
All shipments require a signature from an adult twenty-one (21) years of age or older per federal law. Couriers will require a proof of ID before delivery. If an adult is unavailable to sign for the package, it may be returned. No exception can be made.
Orders are processed and shipped from the LoveScotch facility Monday through Friday. Please allow up to three (3) business days to process shipping orders.
Orders shipping via the Saver rate (where available) take approximately 5-7 days to have local carrier tracking assigned. Once tracking is assigned, your order should be delivered within 5-7 business days. We are unable to guarantee a specific delivery date. The carrier will attempt delivery three times before it is returned to sender. If an additional delivery attempt is need, an additional delivery fee will be required.
Ground shipping times are best estimates, but are not guaranteed by the shipping couriers.
Orders that are refused or returned after three (3) delivery attempts shall be refunded for the value of the product only. Shipping charges are not refundable and returned orders incur a secondary shipping charge to cover the return shipping fee.
Wine and other delicate products may be weather sensitive. Shipment of these items may be delayed at the LoveScotch team's discretion to prevent heat damage or freezing. LoveScotch is not responsible for damaged wines due to ground services.
LoveScotch is unable to ship to P.O. Boxes, Army Post Offices (APO), Fleet Post Offices (FPO), or freight forwarding companies.
LoveScotch does not guarantee that bottles are shipped in their original packaging. If original packaging is desired, a note must be included in the order. LoveScotch will not ship packaging that was not requested free-of-charge but will for a secondary shipping fee.
Returns:
Due to state regulations, LoveScotch is only able to accept alcohol returns in the event that the product is spoiled. In the event that the bottle sustains major damage during transit, Lovescotch will refund or replace the product. Please reach out to hello@lovescotch.com regard ing any damaged items and include photos of the damaged product and packaging.
Note: All bottles are inspected for any flaws prior to shipping.
LoveScotch will not accept returns for bottles that do not match the exact image on the website. Product images on the website are intended for illustrative purposes only and may not be exact representations of the item in stock. Actual products may vary in edition or batch, for example. LoveScotch cannot guarantee the edition or batch unless it is specifically mentioned in the product name or description.
LoveScotch does not accept returns for engraved bottles unless the bottle was damaged. If an engraved bottle is returned after three delivery attempts, the customer will not be refunded for bottle or shipping fee and incur a secondary shipping fee to cover the return shipping cost.