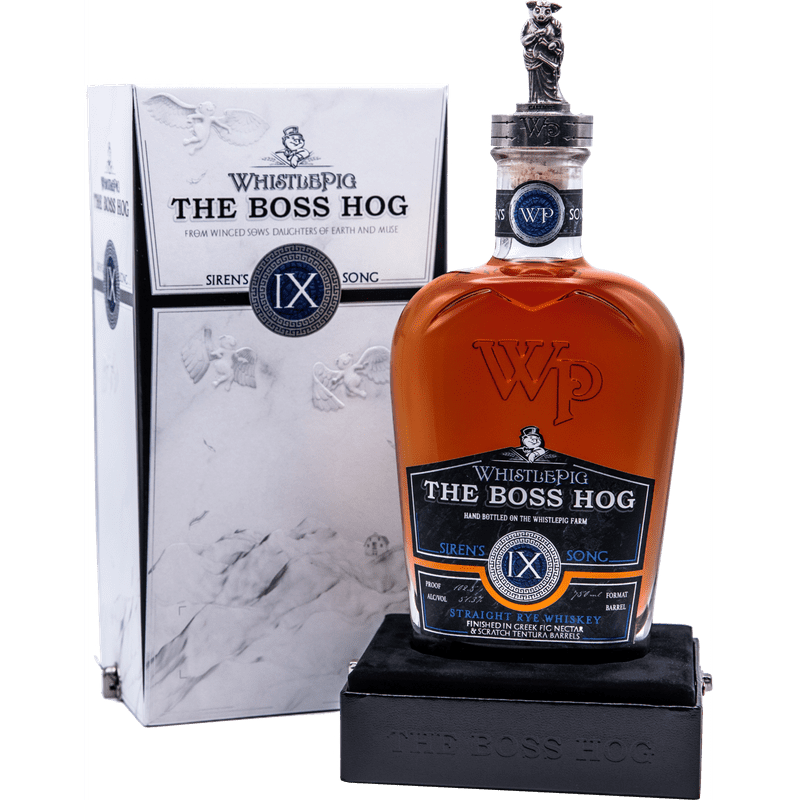 WhistlePig 'The Boss Hog IX: Siren's Song' Straight Rye Whiskey
2 people are viewing this right now
Translation missing: en.products.product.price.regular_price
$999.99
Translation missing: en.products.product.price.sale_price
$999.99
Translation missing: en.products.product.price.regular_price
$14.99 Flat Rate Shipping for up to 4 bottles. Free Shipping on all orders over $250
WhistlePig 'The Boss Hog IX: Siren's Song' Straight Rye Whiskey
Product description
Shipping & Return
From the distillery: 
This autumn we unveil the latest chapter in The Boss Hog odyssey, a journey through parts previously unknown in the world of whiskey. It begins with some of the oldest Rye on our Farm. Then, a double finish in barrels formerly belonging to Greek fig nectar and scratch made Tentura – a Greek style liqueur inspired by Ancient Patras.
Siren's Song is the result… an adventure for the ages, befitting its own ode. It beckons you with refrains of supple sweetness and exotic spice. Honoring our five promises for every edition of The Boss Hog, you are guaranteed a stupendous and powerfully complex whiskey; single barrel in origin, bottled at proof and unique from anything you've ever before tasted. And for the first time ever, the cask finishes for this particular edition were crafted by our own whiskey makers: Liz Rhoades and Meghan Ireland.
The dynamic duo were inspired by the Muses of Greek Mythology – each of whom is depicted on one of nine bespoke pewter toppers: Calliope, Clio, Erato, Euterpe, Melpomene, Polyhymnia, Terpsichore, Thalia, and Urania. Amass them all if you dare; these others of creation also birthed the mischievous and mysterious sirens.
Another first for the collection – the back label of The Boss Hog IX comes equipped with NFC technology, enabling collectors to authenticate and register their treasure with one tap of a smartphone.
A happy homecoming awaits…
This rare and outstandingly complex whiskey is barrel strength, bottled between 102.5 – 106.2 proof.
NOSE    Orange blossom followed by floral notes, dried fruit & a hint of brown sugar
PALATE    Notes of cinnamon and clove fading into black cherry
FINISH    Jammy fig and our classic rye spice
Shipping:
All shipments require a signature from an adult twenty-one (21) years of age or older per federal law. Couriers will require a proof of ID before delivery. If an adult is unavailable to sign for the package, it may be returned. No exception can be made.
Orders are processed and shipped from the LoveScotch facility Monday through Friday. Please allow up to three (3) business days to process shipping orders.
Orders shipping via the Saver rate (where available) take approximately 5-7 days to have local carrier tracking assigned. Once tracking is assigned, your order should be delivered within 5-7 business days. We are unable to guarantee a specific delivery date. The carrier will attempt delivery three times before it is returned to sender. If an additional delivery attempt is need, an additional delivery fee will be required.
Ground shipping times are best estimates, but are not guaranteed by the shipping couriers.
Orders that are refused or returned after three (3) delivery attempts shall be refunded for the value of the product only. Shipping charges are not refundable and returned orders incur a secondary shipping charge to cover the return shipping fee.
Wine and other delicate products may be weather sensitive. Shipment of these items may be delayed at the LoveScotch team's discretion to prevent heat damage or freezing. LoveScotch is not responsible for damaged wines due to ground services.
LoveScotch is unable to ship to P.O. Boxes, Army Post Offices (APO), Fleet Post Offices (FPO), or freight forwarding companies.
LoveScotch does not guarantee that bottles are shipped in their original packaging. If original packaging is desired, a note must be included in the order. LoveScotch will not ship packaging that was not requested free-of-charge but will for a secondary shipping fee.
Returns:
Due to state regulations, LoveScotch is only able to accept alcohol returns in the event that the product is spoiled. In the event that the bottle sustains major damage during transit, Lovescotch will refund or replace the product. Please reach out to hello@lovescotch.com regard ing any damaged items and include photos of the damaged product and packaging.
Note: All bottles are inspected for any flaws prior to shipping.
LoveScotch will not accept returns for bottles that do not match the exact image on the website. Product images on the website are intended for illustrative purposes only and may not be exact representations of the item in stock. Actual products may vary in edition or batch, for example. LoveScotch cannot guarantee the edition or batch unless it is specifically mentioned in the product name or description.
LoveScotch does not accept returns for engraved bottles unless the bottle was damaged. If an engraved bottle is returned after three delivery attempts, the customer will not be refunded for bottle or shipping fee and incur a secondary shipping fee to cover the return shipping cost.